SHARE A GREAT WINE EXPERIENCE IN OUR WINERY
DATING BACK TO THE 18TH CENTURY, THE WINERY GIVES A LASTING IMPRESSION. FROM THE TASTING SPACE, WE CAN GLIMPSE AT THE PARK WHERE GREEN OAKS AND ALEPPO PINES MAKE YOU FEEL OUT OF TIME. INSIDE, WE APPRECIATE THE CELLAR, COMBINING TRADITION AND MODERNITY, CEMENT AND STAINLESS STEEL VATS, AND A WINE-AGEING ROOM WITH OAK BARRELS. IN THE GLASS, GLORY UNION OF SYRAH, GRENACHE AND MOURVEDRE FOR THE REDS, OR ROUSSANNE AND WHITE GRENACHE FOR THE WHITES. A GREAT WINE EXPERIENCE IN THE MINERVOIS.
Lovers of wine, art, history, epicurean friends, enjoy a great wine experience in our cellar, along the Canal du Midi. During a tasting, we will be happy to introduce you to the history of the winery and its wines. For gourmands, local products and especially their producers are in the spotlight: mostly from the region and above all very good. And to flatter your five senses, we regularly organize art exhibitions or concerts in the heart of the cellar. Find out about upcoming events during your visit.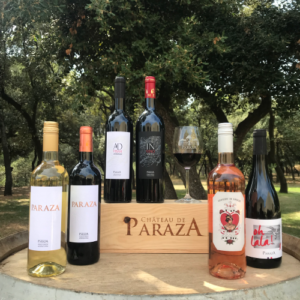 CLASSIC WINE-TASTING
[ free ]
A good experience of classic Minervois blends: one white (Cuvée Velvet), one rosé (Bad rosie) and four reds. Taste all the main wines from our winery!
Total : 6 wines
NB : The wines to be tasted are subject to change depending on the vintages available.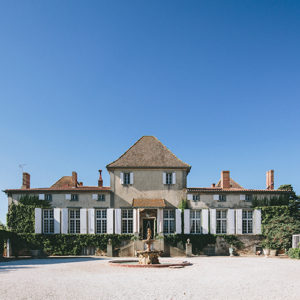 GUIDED TOUR & CLASSIC WINE-TASTING
[ 5€ PER PERSON ]
An ideal experience to learn more about the history of Chateau de Paraza, the Canal du Midi, and wine-making. And eventually you can taste our main wines.
Duration: about 1h
NB: this experience can be subject to variations, depending on the events taking place at the winery. Booking is required from September.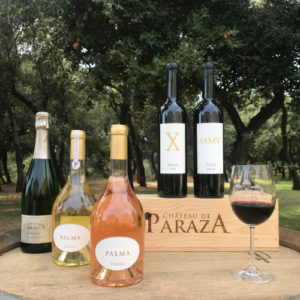 PREMIUM WINE-TASTING
[ 9€ per person]
[ 9€ per person for the version including PALMA]
This wine experience gives you the opprotunity to taste all our classic wines, and on top of that our best wines aged in oak barrels. These are reknown wines and we produce only a few bottles of each every year. Taste our Crémant de Limoux, Les Bulles de Paraza, the Cuvée Spéciale Rouge 2017, and finish with X et MMV, our best wines elaborated with our oldest vines.
Total : 10 wines
NB : The wines to be tasted are subject to change depending on the vintages available.

[ 18€ per person ]
A tasty experience to explore classic as well as most surprising wine and cheese pairings between our wines and a fine selection of artisan cheeses.
 Available soon

[ From 45€ / person ]
By yourself or with friends, get to learn more about the basics of winemaking and oenology (varietals, terroir, know-how).
Wine-tasting includes 7 to 10 wines.
Duration : About 2h30.

ENJOY A GLASS OF WINE
[ Glass of wine from 3€
Plates of hams and cheeses from 8,5€ ]
Enjoy a relaxed wine experience at the heart of our winery or in the gardens. You can order any of our wines by the glass and enjoy it with a plate of ham or cheeses.
Not available during the winter season (from October 1st to March 30th)

HONEY TASTING
[ Free ]
All our experiences are not only about wine but also about honey. It is ideal for the youngest as well as for the not that young to taste the various perfumes and flavors of our local artisan honeys.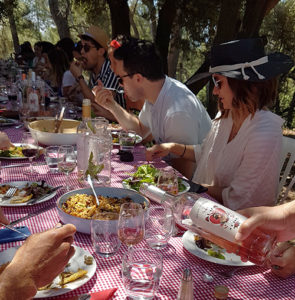 PICNIC
[from 30€ / person (for lunch, wine not included) ]
Want to enjoy a picnic with family or friends? Our team prepares a homemade menu to enjoy a lunch in the park. And why not precede this picnic with a visit of the winery and a wine tasting? The perfect opportunity to choose wines to accompany your lunch
In partnership with Home Made By Petra
8 persons minimum
 (for fewer guests, consult us)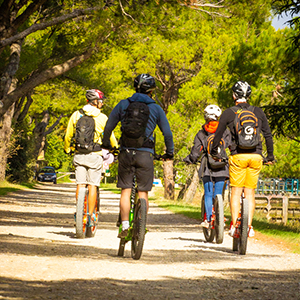 For a memorable moment in the heart of the vines. Discover the Minervois with friends or your family with the trottitwine package.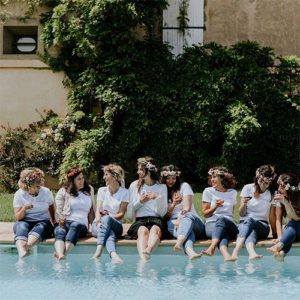 CREATE YOUR OWN WINE EXPERIENCE
We are glad to organize customized wine experience and events that are a good fit our venue.
OPENING HOURS
WINE-TASTING / SALE OF WINE
WINE EXPERIENCE
Winter: from October 1st to April 30th :
From Monday to Friday: 10am to 12:30pm – 2pm to 6pm
Summer: from May 1st to August 31st:
Monday to Sunday : 10am – 8pm
Harvest season: from September 1st to September 30th :
Monday to Sunday : 10am – 6.30pm
Partager cette page