As for the rooms and the suites, you will appreciate the vastness of your accommodations, as well as the comfort of the bathrooms and the refined decorations. Ideal for a romantic holiday for two or a getaway with friends.
King Suite
With its luxurious tapestries, French ceilings, shimmering silk curtains and stone fireplaces, the mood of the King Suite will transport you to the era of Louis XIV. Looks out upon the Castle's courtyard.
The room is composed of two connected bedrooms and one luxurious bathroom, perfect for a family.
Beds: 190*150cm and

180*200cm
Baron de Jougla Suite
Space and elegance are the hallmarks of the Baron de Jougla Suite. It offers a beautiful view of the Castle's Terraces and the cloister housing the pool. Preferred access to the pool.
Bed: 180*200cm

Twin bed of 90*200 cm in a seperated but connected room (ideal for family)
Library Suite
Spacious and erudit, the library suite plunges you amongst classics of literature. Breathtaking view on the Pyrenees and the terraces.
This suite is composed of a big room and two adjoining rooms. The three rooms share a corridor and a beautiful bathroom. (Perfect for families)
Bed : 180*200cm

1 bed of 140*200cm and 1 bed of 160*200cm
Countess Suite
With its golden highlights, the Countess Suite invites you in to relax and enjoy a moment of serenity. It offers a view of the Castle's Courtyard and the cloister housing the pool.
Paul Riquet Suite
Spacious and elegant, the Riquet Suite welcomed architect Paul Riquet during the construction of the Royal Canal. It offers a stunning view of the Castle Terraces and the Plaine de l'Aude, all the way to the Pyrenees.
Luxury for us lies in simple elegance, a warm and friendly welcome and attention to detail. Come discover the charm of a French gateway and enjoy a timeless holiday.
After a royal night of sleep in one of the castle's suites, there's nothing like sitting down to a meal in the dining room, surrounded by tapestry-covered walls. We will be happy to serve you a French breakfast, with pastries and fresh bread, homemade jams, an assortment of organic yoghurts, fresh seasonal fruit, as well as a house specialty. All accompanied by a selection of "Mariage Frères" teas, a coffee or a fresh juice.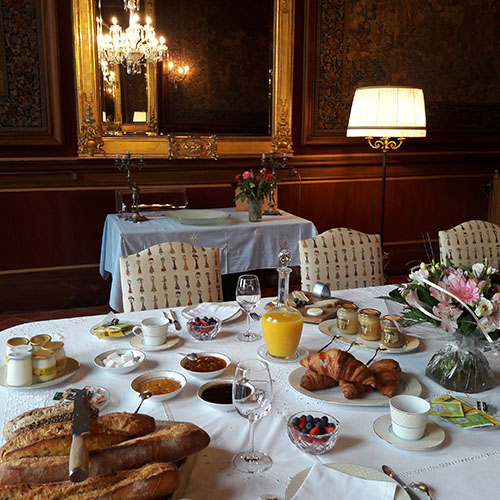 Do you have preferences for your accommodation or breakfast? Please let us know: reservation@chateaudeparaza.com
Share this page